New: We are available for consulting.
Mat will be glad to help you evaluate a local martial arts school and give advice on getting your Little Ninjas in the best local class.
We can also help with effective and appropriate discipline plans for your child, educational classrooms, or martial arts classes.
We do Zoom or Skype conference meetings at $50 for half hour sessions.
Contact us through our contact page to set up a consultation.
Our Story, by Mat
I grew up in a single parent home with my mother, brother and sister. I had problems with being bullied in school as a child and it wasn't until I started getting in shape and standing up for myself that I literally grew out of that phase. One of the major factors was starting martial arts classes.
My first black belt was under the original Grand Master Instructor of the legendary Chuck Norris. We both earned black belts in Tang Soo Do under GM Sok Ho Kang and went on to start our own systems while training extensively in many others around the world.
When I went off to college at the University of Tennessee I soon found much more accomplished martial artists and groups to train with. More importantly I met Jackie, my soon to be wife. We decided to get married and I got a job to put her through the end of her bachelor's degree and master's program. A year and a half after getting married, we had our first son, Brandon.
Jackie grew up in a tiny house with a large family in Knoxville Tennessee. She was always the straight A student and became the first in her extended family to graduate from college. When we met, she was in her senior year at UT and in a program to finish her Master's Degree directly after.
I worked full time while she finished and later completed my B.S. After her internship and having Brandon, she got a job as a teacher in an inner city school in Knoxville.
Once she began working as a teacher, I started my first martial arts school. It grew from me in an empty room, to a 7500 square foot location with instructors, a full workout gym, and all the stresses of running a large martial arts school location. We then had our daughter, Lexi.
I traveled and brought in instructors from styles the area had never seen before. I trained in FMA (Filipino martial arts), Sambo, Judo, Submission Grappling, MMA and others. Yet the one thing I thought was missing was a competition record. We had our twin boys by that point.
So, we sold my school along with most everything we owned and moved across the country to Los Angeles. There I joined the Hayastan Fighting Team, eventually becoming an instructor under the Judo and MMA greats "Judo" Gene Lebel and Gokor Chivichyan. I became a sparring partner for MMA fighters such as Manny Gamburyan (UFC, WEC), Karen Darabedyan (WEC), Roman Mitichyan (UFC) and helped with training for Ronda Rousey, the former UFC women's champion. 
At the time we moved to LA we had a ten year old son, a five year old daughter and not even one year old twin boys. My brave wife Jackie taught middle school in East LA for many years. Those East LA kids grew to love her, even if they didn't seem to like anyone else.
Then I joined the craziest group of martial artists you will ever meet. I achieved great success in becoming one of only a handful of full Guros under "Crafty Dog" and the Dog Brothers Martial Arts system. I fought over 54 times submitting or knocking out nearly all of my opponents. After numerous injuries and starting a very successful kids program in LA, we decided it was time to move back to the East Coast and closer to family.
Jackie had been teaching in very stressful environments for many years and it caused us to reevaluate our reasons for being on the west coast. Living that far away from family seemed like a good idea when we were wanting to stand on our own feet, but a horrible idea in practice.
So after being sent all around the world to compete and teach in countries like Australia, New Zealand, Germany, Switzerland, South Korea etc. we ended up close to where we started.
I have taught thousands of adults, many thousands of kids, developed combat systems for the Navy, started businesses on both coasts and around the world. Yet, the things I have always loved have been spending time with my family and teaching tiny slobber boxes NOT to hit or kick each other. So that is what I plan to do from here on out.
Jackie has taught in public, charter, private, and home school settings all across the country. She has won numerous awards and accolades from administrators and school systems in some of the most challenging environments possible. She has taught university classes online and nearly all grades below. Now she is enjoying the familiar mountains and tree filled environments of the East Coast.
Here is a link to our contact page here.
Master Mathew Booe's Credentials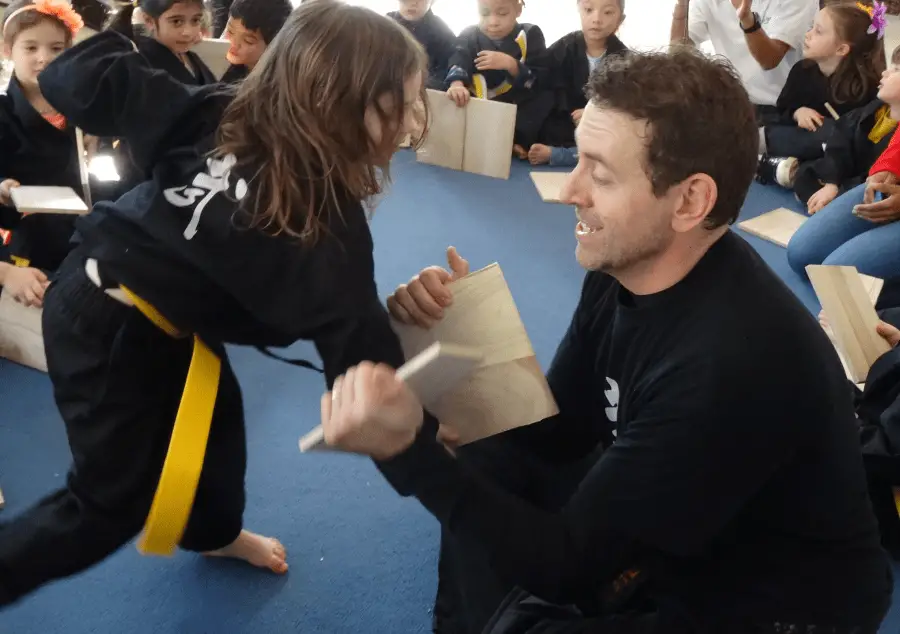 Education:
BS: Liberal Arts – Excelsior College
MA: Current Graduate Student – Notre Dame Graduate School
Languages:
English
German 
Career:
Full time Martial Arts Instructor, International Seminar Teacher, and Freelance Consultant for 25 years. 
Dog Brothers Martial Arts (Kali, Pikiti Tirsia, Muay Thai, Grappling, etc.) –
Dog Brothers Martial Arts Guro (one of only a handful in the world)
Full Dog Brother: Nickname – "Boo Dog"
Over 54 Real Contact Stick and Knife Fights in Los Angeles, North Hollywood, Burbank, San Diego, and Bern Switzerland
Member of the NOHO Clan
Former International Director of the Dog Brothers Martial Arts School Program 
Hayastan Mixed Martial Arts (MMA) 
7th Level Instructor under Gokor Chivichyan and Gene LeBell's Hayastan Grappling System
Trained for 7 years of 30+ years in the martial arts at the Hayastan MMA academy in North Hollywood, CA
Sparring partner for multiple UFC and WEC fighters.
Competed and medaled in submission grappling and Judo tournaments in Los Angeles, North Hollywood, and Las Vegas.
Former National Director for Hayastan Grappling Challenge Tournament Series. 
Other black belts and certifications:
Hap Ki Do
Tang Soo Do
Tae Kwon Do
Isshinryu Karate
Certified ASP Officer
Co-founder – Naval Combatives – Naval Base San Diego
Magazine Articles
Here is a spread on the interview on the Gracie.com.au website.
View Master Booe's Author Page Here.
Credentials for Jackie Booe, Ed.S.
Education:
BA: Human Learning And Behavior
MS: Curriculum Development and Instruction
Ed.S: English Language Learners
Certifications:
Elementary
Secondary English
English Language Learners
Teaching Licenses:
Virginia
Tennessee
California
Career: 
Taught at elementary, middle, high school, and college level
Owned and operated a daycare
Homeschooled
See Jackie Booe's Author Page Here.