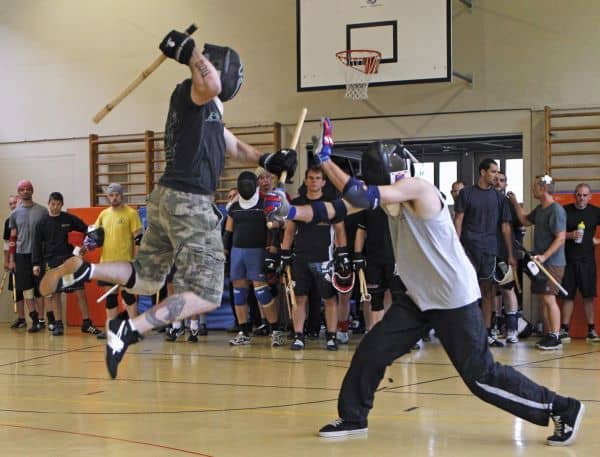 Master Booe has written several books and many blog posts on LittleNinjaParenting.com.
Some of his books include…
Karate Coloring Book: Character Pages For Ages 3 And Up (Martial Arts Virtue For Kids Coloring Series)
Jump to Japan: A Martial Arts Picture Book About Finding Courage (Martial Arts Character Quest Series)
Sensei Says: Character Building Stories From A Martial Artist Paperback
He was interviewed and featured in international martial arts magazines.
Blitz, an Australian Martial Arts magazine Volume 26 No 11
Gear, German Magazine 1-2012
Education
Bachelor of Science Degree from Excelsior College, Albany NY
Degree Major Area of Study: Liberal Arts
Master of Arts Degree from Christendom College School of Theology, Alexandria VA
Current Graduate Student: Theology
Career
Owned and operated 3 martial arts studios in the East Tennessee area.
Owned and operated network of schools in the Los Angeles California area with its base at the Hayastan Dojo in North Hollywood, CA.
Owns and operates a network of classes in the Northern Virginia area.
Owner and Instructor of the Little Ninja Online Karate Class.
Former international seminar instructor on four continents.
Over 30 years of martial arts experience.
Guro in the Dog Brothers Martial Arts – teaching Grappling, Muay Thai, Pikiti Tirsia, and Filipino Kali
Earned the rare title of Guro under Marc 'Crafty Dog' Denny in the Dog Brothers Martial Arts Association
Earned the designation of Full Dog Brother with the Nickname – "Boo Dog"
Over 54 'real contact stick and knife fights'
Contributing member of the NOHO clan
Former International Director of the Dog Brothers Martial Arts School Program 
Hayastan Mixed Martial Arts (MMA) 
7th Level Instructor under Gokor Chivichyan and Gene LeBell's Hayastan Grappling System
Trained for 7 years of 30+ years in the martial arts at the Hayastan MMA academy in North Hollywood, CA
Sparring partner for multiple UFC and WEC fighters.
Competed and medaled in submission grappling and Judo tournaments in Los Angeles, North Hollywood, and Las Vegas.
Former National Director for Hayastan Grappling Challenge Tournament Series. 
Other black belts and certifications:
Hap Ki Do
Tang Soo Do
Tae Kwon Do
Isshinryu Karate
Certified ASP Officer
Co-founder – Naval Combatives – Naval Base San Diego
Quotes From Parents and Students of Master Booe
My daughter loves Master Booe's karate class. She talks about it non-stop.

Jessica – Caitlyn's mother Glendale, CA
I've never seen anyone get as much out of 3 and 4 year olds in my life.

Jorge – Cesar's father Van Nuys, CA
We love Master Booe's personality and our girls can't wait to get 'noogies' each week.

Rodney – Megan's father Knoxville, TN
Derek used to cry in a room with more than one or two people at a time. Since he has been in Master Booe's classes, he has come "out of his shell".

Cynthia Derek's mother Pasadena, CA
We use Master Booe's philosophy to curb rough play in our school. We don't tell the children they can never play rough. We tell them that type of play is only for Karate class. It has been a useful tool.

Teacher Anna Burbank CA
Our middle school used Master Booe's creed as a model to create our own. The students enjoy the chant and the teachers and parents notice the improved teamwork and school spirit.

Staff at Excel Charter Academy Los Angeles, CA
Master Booe's Karate program has been a great asset to our school. We are especially please with his preschool Karate program and our preschool students as well as their parents enjoy his method of teaching. Master Booe offers a great program and is an impeccable teacher.

Julie Sanchez principal First Lutheran School Glendale, CA
Master Booe has taught exercise classes here at our retirement community to our complete satisfaction. He has an excellent rapport with the residents.

Judith S. Bodley Administrative Assistant Oak Grove Retirement Community Roanoke, VA
Master Booe has provided us with an exceptional service to our children here at the Childcare Network. He showed great enthusiasm when working with all ages. His excellent teaching methods and knowledge of the Martial Arts are evident. Master Booe is dependable and dedicated as well as flexible to work with. His time with us has been extremely enjoyable for both myself and the children here at the Childcare Network. Anyone would be lucky to have him as a Karate instructor.

Nikki Richardson Childcare Network Columbus, GA
Thank you for teaching us Karate and having so much fun doing it!

Allie and Roman Los Angeles, CA
I have had the best time in Karate. Thank you for teaching me.

Taylor Alexandria, VA
Thank you Master Booe for being an amazing positive influence in Servi's life.

Ann Alfonso, Los Angeles, CA
Thank you for being such a wonderful role model and instructor to our son Dominic.

Frank Mara Los Angeles, CA
Thank you for teaching all 3 of my children the skill and discipline of the martial arts.

The Wangs (Grace, Olivia, Joey) Los Angeles, CA
The children love Master Booes class. While he is teaching the parents are in amazement. He has so much fun with them. He has taught my children so many ways to work out different behavior issues. He is very knowledgeable about how to deal with my difficult behaviors with the children and has helped us gain control of the situations. Master Booe is truly an asset.

Leanora Turman Honey Tree Learning Center Roanoke, VA
All of the children and parents in our school thoroughly enjoy Master Booe's classes. He established an outstanding rapport with the students and heir parents. His ability to be creative with the children and have engaging activities was outstanding. He is highly respected by the children. Master Booe does an excellent job.

Michele L. Carroll Roanoke Valley Montessori School Salem, VA
Master Booe has done a great job with the kids. He is so motivating that the kids just stay tuned in to him at all times. He is professional, knows how to keep the attention of the class and his technique is always fun. In a few cases parents thought Martial Arts may be too aggressive. Once they saw his program they knew that Master Booe was in line and in tune with the kids and while he demanded attention, at no time was his class ever too aggressive.

A lot of children needed this class to help build their self esteem or curb unwanted behavior. It is an appropriate type of class for both boys and girls.

Master Booe comes highly recommended by my staff and I at HoneyTree and I would suggest that all children get involved in his future classes.

Brenda Samson Director Honey Tree Learning Centers Roanoke, VA
I have taken self defense, tactical hand to hand, and physical control classes from the department and from multiple Martial Arts instructors. In all my experience I have yet to find an instructor with the capability to instruct and apply the total of the martial arts as Master Booe is able to demonstrate. I have benefited greatly from his classes and have recommended as well as persuaded many of my fellow officers to attend his instruction.

Myron Davis Knox County Police Officer Knoxville, TN
I highly recommend Master Booe's instructional program. I am a board certified Family Practitioner who recommends this program to improve health and well being of my patients and employees. Master Booe taught his program at the Seymour Medical Center. His program is easy to learn, and extremely well received, and very beneficial. Without reservation I recommend the program.

Dr. Wayne J. Stuart Owner Seymour Medical Center
Master Booe has been coming to our resort for years instructing multiple classes weekly for our guests and owners. We have had many requests for this program and it has become a huge success. He has been terrific at adapting his classes to meet the needs of the various age groups and styles of owners and guests that we have throughout the year.

I would highly recommend Master Booe to any individual, group or organization that is interested in furthering their health and fitness potential.

H. Kim Tankersley Assistant Resort Manager Fairfield Resorts, Smokey Mountains
Master Booe's program has proved beneficial and popular with our residents.

Cathy DeCotes Homewood Residence at Deane Hill
To read more about Master Booe visit our About Us page here.