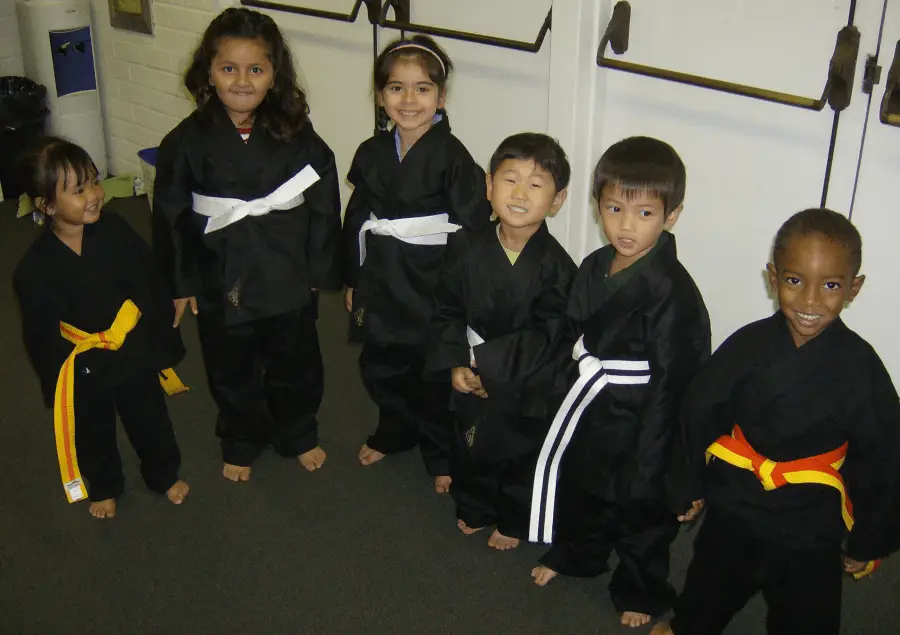 If you are wanting to know the names of uniforms used in the languages of a particular martial art you will first need to know the name of the art and where it comes from. Parent and Grandparent tip: don't call them costumes.
Japanese martial arts of Karate, Judo, Aikido, and Jiujitsu call the uniform a Gi (gee).
The wide black pants of Aikido and Kendo are called a Hakama.
Brazilian Jiu jitsu uses the Japanese terms Gi or Kimono.
Korean arts Tae Kwon Do and Hap Ki Do call the uniform a Dobok.
Russian Sambo calls the top a Kurtka.
In some styles using the proper name of a martial arts uniform is important to the instructor and other students. Though, in many schools and classes the English term 'uniform' is perfectly fine. One important consideration that is linked to these names is the differences in their makeup and usage. Having the wrong Gi or Dobok in the wrong situation could cause the uniform to be damaged at the least and an injury to the student in a worst case scenario.
What Are Martial Arts Uniforms Called Around the World?
| | | | | |
| --- | --- | --- | --- | --- |
| Style (Country of Origin) | Pants | Belt | Top | Entire Uniform |
| Karate (Japan) | | Obi | | Karategi (Gi) |
| Judo (Japan) | | Obi | | Judogi (Gi) |
| Jiujitsu (Japan) | | Obi | | Jiujitsugi (Gi) |
| Ninjutsu (Japan) | | | | Ninja-yoroi |
| Aikido (Japan) | Hakama | Obi | Keikogi | Aikidogi (Gi) |
| Kendo (Japan) | Hakama | | Keikogi | Kendo Armor: Kendogu (Bogu) |
| Kung Fu (China) | Cheurng Jow Fu | Sash | Cheurng Jow Saam  | No Formal Name |
| Tai Chi (China) | Cheurng Jow Fu | | Cheurng Jow Saam  | No Formal Name |
| Brazilian Jiu jitsu (Brazil) | | Faixas | | Kimono or Gi |
| Sambo (Russia) | Shorts | | | Kurtka |
| Wrestling (Greece) | Shorts | | | Singlet |
| Kali (Philippines) | | | | No Formal Name |
| Pekiti Tirsia (Philippines) | | | | No Formal Name |
| Tae Kwon Do (Korea) | | Ti | | Dobok |
| Hapkido (Korea) | | Ti | | Dobok |
| Boxing (Unknown) | Shorts | | | Shorts |
| Fencing (Varied European Origin) | Knicker | | Jacket | Outfit |
It is clear that many different cultures have their own traditions in what they wear to train in and how they wear it. The materials in some instances are cultural with roots in the practical and ordinary.
In China, much of what is worn for Wushu and what the West knows as Kung Fu is silk based clothing. There are customs and traditions that point to why silk is used, but much of that has been lost. Silk was a highly prized fabric in times past throughout the Asian continent and beyond. The traditions many times have roots in what was available or important for the region.
In Japan, the kimonos and robes worn by the majority of the people became the traditional dress for practitioners of the cultures fighting arts. Even when these styles went out of fashion tradition kept the design of the Gi used for long afterwards.
More recent styles like the Korean arts of Taekwondo and Hapkido developed their dress from Chinese and Japanese influences during times of occupation and through times of free trade. Today's popular 'V' neck Dobok used by Tae Kwon Do competitors and students came about as late as 1978 due to the design by the World Taekwondo Federation.
I recommend this inexpensive Karategi from Amazon, this best selling BJJ Gi from Amazon, or this affordable Taekwondo Dobok also from Amazon.
How Are These Uniforms Different Due to Their Usage?
Grappling arts such as Judo, Jiu jitsu, Sambo, and Aikido use much heavier jackets than other styles. The top resembles a quilt in many ways with its textured, embroidered feel. It is much thicker as well to withstand pulling, jerking, and tight gripping.
Lighter weight uniforms are the norm for striking styles that have a heavy competition or tournament focus. Taekwondo doboks for instance have innovative materials in some cases to make the fabric breathable for highly aerobic and flexible uses. It is not uncommon for high end competition Taekwondo doboks to have a ribbed texture.
The silks commonly found in Kung Fu uniforms where they have been standardized are used with specific advantages in mind. Traditional reasons have to do with their view that bodies contain energies and that silk is the best material for controlling those energies. Though that reasoning is debatable, what is commonly agreed upon is the comfortableness of silk.
Many styles developed in tropical regions and their dress became more minimal because of their environments. In the Philippines, open vests and flowing shorts or pants are worn. Training in these climates necessitate these forms of clothing.
What Are Some of the Reasons Not to Wear the Wrong Type of Uniform?
I know from teaching techniques from one style in the class of another that sometimes the uniform can not hold up to the techniques. It may be either too bulky, fatiguing the students much to quickly. Or the fabric could be much to light and when applying a throw, take down, or other grappling hold, it could rip a hole in the uniform.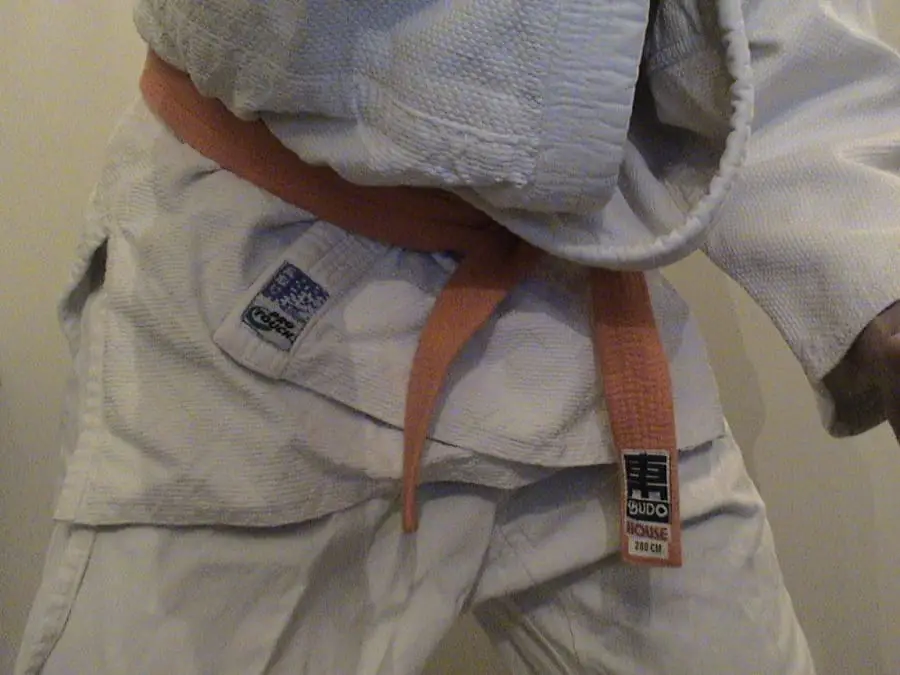 There are also tie strings on many modern day striking uniforms. These are the first things to get torn off if they are tied and Judo or Jiu jitsu is on the menu that day. One solution is to not tie them or remove the ties all together. This stops the chance of it causing a larger hole.
Doboks from Taekwondo are notoriously useless if any sort of grappling is done. They have a deep v-neck collar in the front. If nearly any amount of pulling is done on the jacket, a rip is bound to happen at the base of the "v".
Another reason that grappling should be only done with the right thickness of a jacket or with no jacket at all is the danger of injuries. Abrasions sometimes happen even with the soft thick collars of Judo Gis. These abrasions turn into burns and even cuts when thinner collars are used.
Where Did The Names of These Uniforms Come From?
The word Gi originated in the Japanese language. It has a fairly basic meaning that doesn't fit what most kids and even adults think of when they think of Karate or Judo. The word Gi simply means dress or clothes in Japanese. This stems from the fact that it is simply a hold over from a style that was popular in times past.
Brazilian Jiu jitsu students use the term Gi because of the history of their martial art. Mitsuyo Maeda taught the families of Gracie and Franca in Brazil the art of Judo and especially the newaza or groundwork. From these two families Brazilan Jiu jitsu was born. Because of its Japanese, and specifically Judo roots, BJJ students to this day call their uniforms Gis or Kimonos.
The Korean term Dobok has a similar though slightly more illustrious meaning behind it. Like the Japanese Gi, the Korean Dobok means clothing, but with a twist. It fully means clothing of the way. In Korean Do means the way and Bok means clothing.
With Taekwondo meaning the way of the hand and foot you can see the reasoning behind the name. Tae means foot, Kwon means fist, and Do means way. So, clothing of the way has a more 'martial arty' feel to it I suppose. Though it is a more modern invention it still uses the traditional tropes and style, just with a bit of an updating.
Most all systems simply call the belt whatever name that their languages use for it. In Japanese it is an Obi (obee). In Korean it is a Ti (tee). In Chinese systems the English word is a sash for what we would consider a belt. Though, the Chinese systems haven't to this day agreed on consistent clothing.
The Uniform Takeaway…
Whether through the eyes of a child or an adult, martial arts clothing is viewed with a sense of wonder and even awe when uniformly worn by large groups of training students. It is a symbol of belonging and for this reason many instructors and students insist on using the proper names for them. Though not expressly offensive, using the wrong name for them could ruffle some feathers in some circles.
The tradition of what they are called on the other hand, is not that specific. Many times the terms used are simply the word for clothes or belt in the language of origin. This doesn't detract from its meaning in the individual student's mind. Just like our names for so many other things, the ordinary practical gives way to deeper meaning with use.
In most histories of the martial arts and its equipment the credit for the Gi's, Doboks, and uniforms we see today is given to the founder of Judo, Jigoro Kano. His ideas was to unify the disparaging attire many students of Jiujitsu wore. He pointed Judo more in the direction of sport and this lent itself to uniform dress codes.
Though it is only based on more ancient dress and is actually a more modern(ish) invention, the martial arts uniform has become a symbol to many of the goals they have set and strive to one day reach. The belt and in some instances the color of the Gi indicate accomplishment. This is the true meaning of the martial arts uniform.