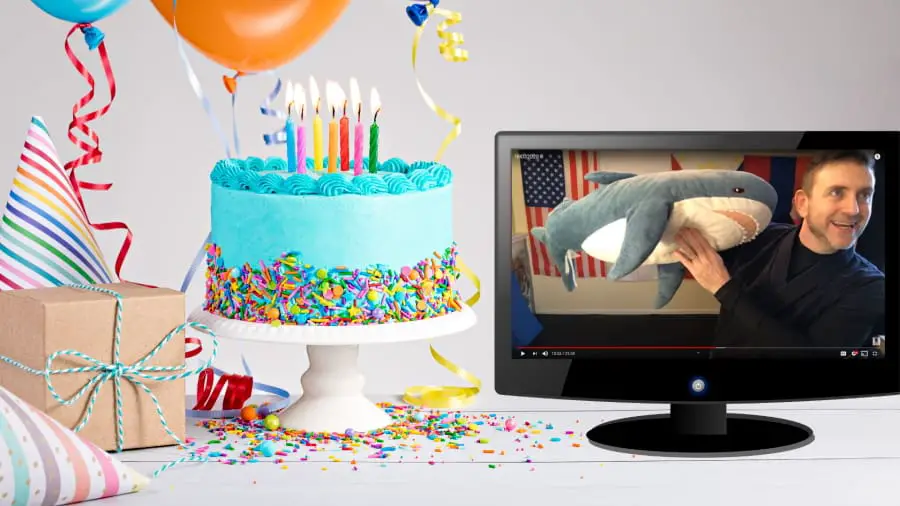 Each birthday our Little Ninjas have is one of a kind. Literally. Once that day is over, it will never be their (insert age here) birthday again. We understandably want to commemorate the day with an event. Now there is a way all family and friends can attend the event, even if they are physically far away, from nearly anywhere they are in the world.
Ninja birthday parties done live online are an easy, inexpensive, and innovative way to celebrate a child's event. They are streamed live and can include family and friends that normally couldn't attend in person, anywhere in the world. Online learning, training, and celebrating are the future.
If you haven't heard of this kind of birthday party then you may be surprised how this could supplement or completely provide for any kid's special day. I have done many in person Karate birthday parties in the past and have now done many Little Ninja Birthday Parties live online. Both are a ton of fun and the kids talk about them for weeks afterward.
Birthday Parties Currently Unavailable.
Virtual Parties Vs In Person Birthday Gatherings
Parties are different for most every person that plans one and for all venues. Many people host them in their homes to great expense, effort, and clean up. Some rent out halls or rooms to accommodate more guests in person.
The traditional way has always been to send out invitations and have everyone gather the troops and meet at an appointed time and place. There is lots of coordination and travel involved. There is great fun to be had, but also lots of preparation that goes along with it.
There is another way that with modern technology is possible for nearly everyone. The use of tablets, cellphones, and laptops are a part of everyday life for most people. Now, using these everyday items you can gather virtually with family and friends in online meeting rooms to celebrate nearly anything.
These virtual celebrations can accomodate crowds as large as 100 people or more from around the world. This innovative approach to events is so inclusive and easy with the program I have put in place, that all you have to do register for the time you want, send out the link, and wait for the party day to arrive.
I even give you all the information to send to other families that will be attending so that know what to expect. It is the ultimate addition or even complete solution to your Little Ninjas once in a lifetime day.
What do Little Ninjas think about my online Karate birthday parties?
The birthday party was a lot of fun, Saabir really got into it and thinks it may have been his best birthday ever.

Kashef
What Can I Expect From A Little Ninja Birthday Party?
There will be a ton of laughing, safe Karate drills done, and a bunch of participation by all that want to join in. I do several classes per day in my Home Dojo delivered via Zoom to hundreds of students.
Here is one of my classes that I do every day. The class will be a version of this (but my wife would add 'on steroids' when it comes to parties).
Then there will be some extras like show and tell, how they can practice safely on their own, and lots of time to spotlight the birthday Ninja. This will be your Little Ninja's day so it will center around him or her.
Who Can Attend Ninja Birthday Parties Online?
This is one of the exciting parts about these parties. You can literally invite anyone, from anywhere around the world. I have had parties with grandparents in India that attended and one's where aunts in Japan were there.
Want to make a bunch of far away family member's day? Want to include older family members that can't travel? This the solution. I make sure to talk to everyone that attends, even if they don't want me to. 😉
Toddlers might need some help, but I have regular students that start at 2 years old and they do great. In a party, with an adult's help they will have a good time.
There can be family simply sitting and watching, and kids bouncing and Judo throwing 'stuffies' around the room. It is all up to you. I allow up to 100 connections for each party. I will be honest. A portion of them will not have the proper internet connection. With that many people it is bound to happen.
I would suggest around 30 or under, but that is up to you. Definitely try to include out of state or out of the country family. This is the perfect oportunity.
What Age Groups Are Best For One Of Master Booe's Online Parties?
Just like my classes, my style of teaching and curriculum work great for ages 2 and up. As kids get into middle school ages though, my 'dad jokes' and humor tend to be a bit uncool.
From 2 years old through elementary grades, kids have a blast. With the younger ones, there may be a need for an adult or older sibling to help them along. I have many preschoolers that do my classes and parties. They all do great.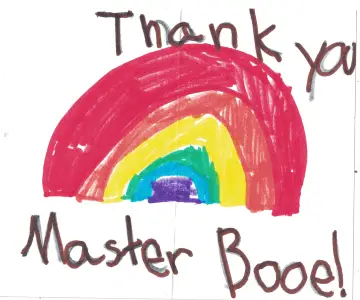 I have enough of these types of cards, some on topic and some with whatever their favorite thing at the moment is, to wallpaper my entire house. The little ones scribble and the older ones like to show me they can write. Trace mom's letters more like it, but we won't let them know I know.
When Can A Little Ninja Birthday Party Be Scheduled?
Available times vary and this is not a sales pitch: slots fill up weeks to months in advance. I have hundreds of students and they regularly have me do their birthday parties. If you are flexible with your date and time and are wanting to jump in the mix head to the next section below and register for the package that works best for you.
If you register first to secure your spot, just send me an email and I will get right back to you for scheduling. This can be done with the info you find after selecting your package and slamming the Book Now button.
If you are wanting to discuss the options or the available times, email me first and then you can register once everything is set. Find my email information by clicking on any of the Book Now buttons below.
To give you an example of what times can work for your party here is a few suggestions.
Monday through Friday – Ask about mornings and afternoons. I will happily put your party in with my class schedule for the day.
Monday through Friday – Evenings work good at 5 pm or 7 to 9 pm EST most every day. For those in other time zones, I am flexible and can set up a time that works for your family and guests.
Saturdays – These can be a good day for any time frame. I have a regular class schedule on Saturdays, but I can easily find a time that will work for you.
Sundays – I do not do classes or parties on Sundays.
Here's what I hear from party attendees…
Master Booe,

Kaia had so much fun at Henrik's birthday party!

Thanks for all the fun you've brought Kaia.

Christy
Ready To Set Up Your Little Ninja Birthday Party Online?
So what are the options when setting up one of my virtual birthday parties? All three of these have the same price for the party itself. There are just some great extras if you are wanting to up the wow factor that can be included.
Take a look and if you have any questions, feel free to contact me and I will be happy to discuss them with you. Just click one of the Book Now buttons and you will find out how to contact me.
Little Ninja Birthday Parties Online – What Are The Options?
What are you needing help with on your future Karate master's special day? Below are some of the ways I can help you with entertainment, connection of family around the world, and even with added gifts and other extras to make your party unforgetable.
Gandolf my old friend, this will be a night to remember.

Bilbo Baggins, Owner of Bag End, The Shire
Here is a quick breakdown of the prices and what you can expect with each of the three online packages. I will expand on what is offered in the next couple sections.
What's Included
Price
Ninja Package
40 min. session with a 30 minute class for up to 100 family members and friends from anywhere there is an internet connection
$99
Premium Ninja Package
40 min. session, a Karate T-shirt and board to break shipped to you*
This is a easy addon once you start the process to purchase the party. Just select it at checkout.
$129
Master Ninja Package
40 min. session, Karate T-shirt, breaking board, and One full term of Master Booe's Little Ninja Online Karate classes (This term is a $99 value for only $50.) Just choose this addon when going through the checkout.
$175
*Contitnental U.S. shipping only.
So that you can get the full picture of what you are registering for, let me go into more detail about what is in each package. You can always contact me with any questions you may have. When you are ready, click on one of the Book Now buttons. You will find my contact info there.
Ninja Package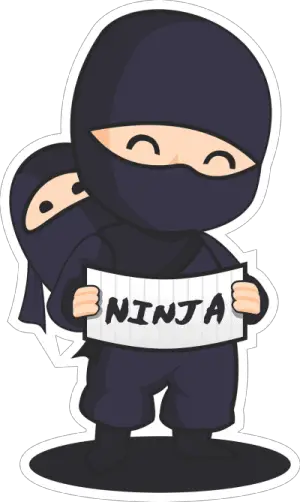 This is the core of the party itself. It will work as a complete party or as an additive with a local gathering or completely remote participants. It consists of a 30 minute high energy, dynamic class with an additional 15 minutes for spotlighting.
The class is a high energy time of jumping, kicking, yelling, chopping, and laughing. Interspersed in the mix, I will spotlight your Little Ninja and have them demonstrate their Karate moves and things we just learned.
There is usually three components to every class. There will be striking (kicking, blocking, and punching in the air, on 'stuffies', and paper targets). There is a weapons portion (using rolled up newspapers, paper towel rolls, or other things from around the house to swing in the air). Then we will do some Judo throwing and wrestling with 'stuffies' or pillows.
For the remainder 15 minutes there will be plenty of 'fooling around' where I joke with the kids, show some of what I use to train in karate, have them show me things they like, and spotlight the birthday Ninja of course.
If you are ready to register and book your Basic Ninja Party. Hit the Book Now button below.
Basic Ninja Online Birthday Package: $99.00
If you are wanting to add this to your child's big day, don't hesitate. We will work together to make it great. Book now.
Premium Ninja Package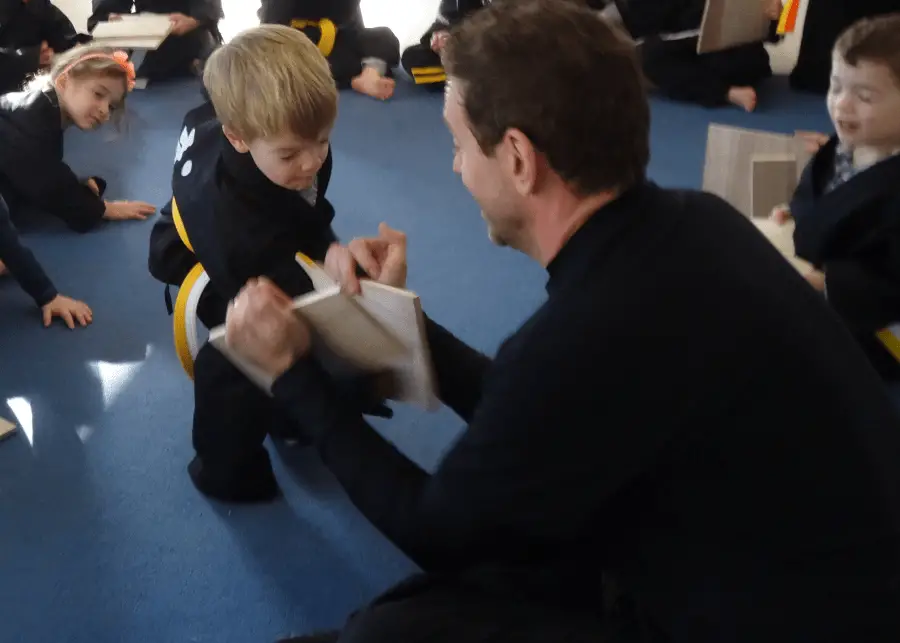 With this one you get the same high energy class, spotlighting your Little Ninja, and fun / goofiness. Your kids and friends will be talking about it for days. This part is the same as the Basic Ninja Package.
With the Premium Ninja Package we are now going to team up to help your birthday child really let their super hero powers shine. This option includes a board to break sent directly to your house (continental U.S. only). This, you or another adult in the room will hold for them to break.
Don't worry, these are the thinnest versions of the boards, and I will coach you on how to hold it for them. Not to mention, I will have them choose from one of three of the easiest ways to break it.
There is also a very cool Karate t-shirt that will be shipped with the board. This you can wrap as another gift or you can present it to the little board choppers after they complete their successful Hulk Smash.
This adds a great exclamation point on the end of a great party! If this is what you are looking for then just slam that Book Now button below!
I can't resist a joke here.
It isn't that all my Little Ninjas love Karate so much…

they just really hate boards!
Of course that is not true, but admit it. It made you smile.
Premium Ninja Online Birthday Package: $129.00 (Just choose this addon once in the checkout and I will get them sent from the warehouse asap.)
Remember, days and time slots are only held after final booking. Don't wait, this could be a great party or even addition to one for you and your family. Be sure to book with enough time for the board and t-shirt to arrive. Book now.
Master Ninja Package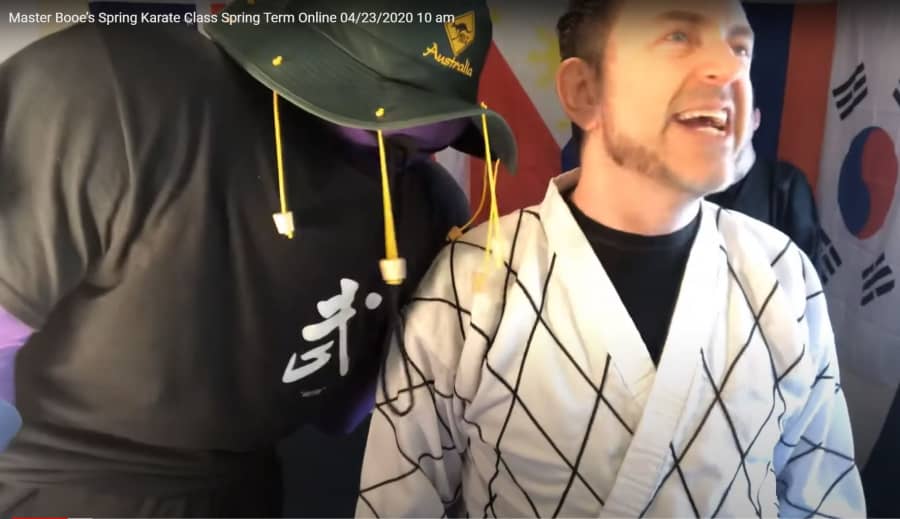 This is the creme of the crop, the top of the heap, the… okay, no more farm sayings.
This package is for those that want to take advantage of a deep discount to offer their Little Ninja a chance to train with me online multiple times per week, at half the normal price.
Yep, this package offers half price on a full term of classes that are already way below what on-site martial arts costs. (Normal cost is $99 for a term. You are getting the entire term here for only $50)
You get this plus all that is in the premium package. Let's look at that a little closer. With the Master Ninja package, you get:
The 30 minute high energy Karate class for up to 100 connected participants, plus 10 extra minutes of silliness.
The board shipped to you (continental U.S. only) for your Little Ninja to break in front of everyone
The cool Karate t-shirt shipped (continental U.S. only) to you to wrap as a present or award after the board break
You get a full term (9 weeks – 10+ classes available per week) of my Little Ninja Online Karate Classes. (My Karate terms are normally $99 by themselves. You will be getting a term essentially for half the price.)
Master Ninja Online Birthday Package: $175 (This addon can be selected separate or together with the board and t-shirt. You can design your party and extras to suit your needs. Just choose your options at checkout.)
Don't let your preferred day and time get taken. With this package you will also need time to get the board and t-shirt in the mail. Book today.
How Does A Martial Arts Birthday Party Work Online?
There are a couple of easy components you and your party attendees will need to make your online celebration possible. The technology is something that most everyone has and it is easy to use to host or attend these parties.
You and your attendees will need a device to participate in or watch a party. This can be a desktop with a webcam and microphone. Other devices usually come equipped with these and can be used as well. They include laptops, smart phones, or tablets.
You will also need an internet connection. Trying this over a data plan on a smartphone could feasibly work, but problems will more than likely occur. A stable alternative is a wifi connection and the one that would be 100% effective is a ethernet cable connection.
Internet Connection For Virtual Birthday Parties
This may seem like a given or a 'no brainer', but the reason I include this here is to help those experiencing these events for the first time to understand how to get the best picture and sound. If they get any lag or skips in the connection it is easily remedied.
The number one problem I see in online classes and parties is frozen screen issues or a sort intermittent pausing of the picture of sound. This actually rarely happens, so that is the good news. Connections are so smooth now days that HD video and audio streaming is becoming a normal part of life.
Here's How You Can Ensure All Of Your Participants Have A Seamless Streaming Experience.
Issues happen only on occasion and the problem is 99% of the time due to the student using a wifi connection too far away from the router. A wifi connection is usually never the problem in itself. These connections are done in my classes and parties from back yards, driveways, porches, basements etc.
There is never a problem if one precaution is taken. The device cannot be too far away from the physical router location. Bringing the device closer solves the problem nearly every time. On rare occasion a router needed to be restarted. The point is, these are very easy fixes and the problem is not that common.
As the host of the parties or classes, I always use an ethernet cable and plug in directly so my connection is never a problem. Either way you choose, you will have a great picture and sound on whatever device you choose to use if you do it right.
Use A Larger Connected Screen For A Dynamic Karate Party
Though tablets and phones are a great and are used by a large portion of my students and party goers, there is a way that a group of children have a 'larger than life' experience. Some of my parties and classes are streamed using a laptop which is hooked up to a larger television.
This makes it like I am right there with them. My new HD wide angle camera and HD microphone delivers a great quality stream.
For small or large groups in the same room this is a great option. This is also great for grandparents wanting to catch the all important vantage point of their 'Grand-ninjas'.
This is just and option that helps with the experience. Try it and you might get to see what I see on a daily basis. Their little faces light up a room sometimes when you see surprise and delight spread across them.
The Best Streaming App For Party Participants is Zoom.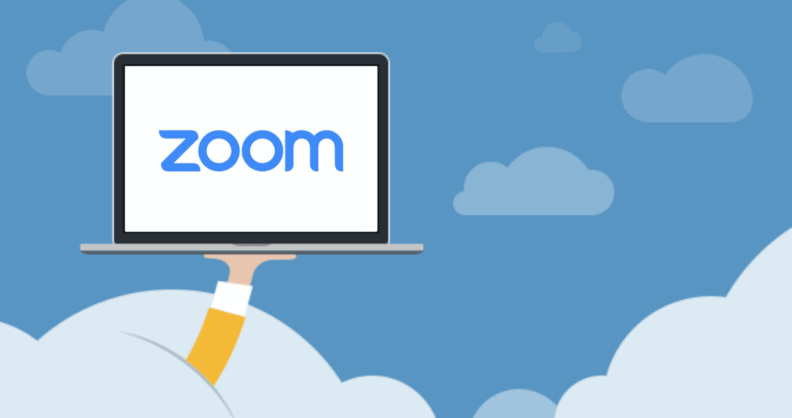 The app that I use is Zoom. This is a free service for all attendees to use as their connection app to my classes and parties. It is extremely easy to use and setup. I provide a link with an embedded password that you can then just open with one click into your favorite web browser and it nearly does it all for you.
Many large corporations are using this technology from Zoom as well as small business. Here is just one quote from a well respected user…
I never get asked about how to use Zoom – people just get accounts and I never hear from them again, all I see is the usage on the dashboard go up continuously.

GREG MARTIN, SENIOR MANAGER OF NASDAQ
In my experience it is the most reliable and easiest to use of all the apps. Other companies, classes, and event hosters may use other services, but they many times will have problems and pass high access fees on to the customer. That is you.
Here is a short video on how easy it is to get set up for free with Zoom.
The Little Ninja Birthday Parties Takeaway…
I know this may be a big decision for some and there if a lot of information that I just threw at you. I will lay it out in a quick rundown and maybe that can clear up any issues you may have.
First, we looked at how these online parties and events can connect family from around the world for your Ninja kid's special day.
Then I let you see a taste of what you could expect and we saw that this will be a fun energy fest right from everyone's own homes.
Then we looked at what ages could benefit from a party like this and who could attend and be a part, even if they aren't kids and just want to watch.
Next we looked at what times are possibly available and looked at some examples of times that could work for a Little Ninja Birthday Celebration.
Then I gave a rundown of the three packages…
The Ninja Package – 30 minute class and 15 minutes of spotlighting the birthday boy or girl
The Premium Ninja Package – A breaking board and a cool ninja t-shirt
The Master Ninja Package – 1/2 price inclusion of a full term of my Online Karate classes offered for 9 weeks.
(Note: You can choose to mix and match the extras during checkout. Just choose the board/t-shirt option with or without the 1/2 price special on the Karate Online term. You can also select the Online Term addon without the board and t-shirt. It is up to you.)
Next I gave some pointers and technical details on how it all works. This is definitely easier than you think. There should not be any hesitation due to technical issues.
There you have it. These Little Ninja Birthday Parties are a blast. You can offer them in a way that makes you the hero of the day for your munchkin Karate star.
If you are wanting to get yours booked or you have some more questions just stomp on one of those Book Now Buttons above. I will be more than happy to work with you on your event.
Until I see you from my Home Dojo, stay safe and God bless.